Window Cleaning in Burntwood References
Hi, just wanted to confirm that a bank transfer was made yesterday evening to you for the cleaning carried out at our above address on Tuesday. We are very satisfied with the work carried out by Nick, who worked extremely hard. Would definitely recommend Aqua-Bright. Mr & Mrs Ball, Chasetown, Burntwood, 29th April 2021 (conservatory roof, gutter, fascia and window cleaning)
Thank you for the invoice Dave, but please make this the last clean for **** as we have now left the property on Friday the 4th December. Thanks for your reliable services."
"Was thrilled to find them! Aqua Bright Cleaning provide a very good service. They are friendly, efficient and flexible in their scheduling. We couldn't ask for more, they even talk to our dog, Murphy, who loves to see them."
"Aqua Bright are reliable and very good at cleaning our office windows. The staff are friendly and courteous. Frontier Software in Burntwood wouldn't hesitate in recommending their services."
Searching for a Window Cleaner in Lichfield, Look no further than Aqua-Bright Cleaning Ltd!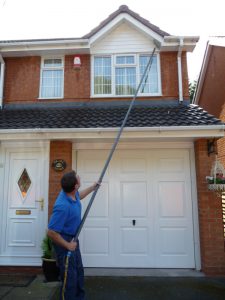 Did you know that the town of Burntwood, or Brendewood as it was originally called, was given its name after the burning of a heath in Cannock Forest and was first mentioned in records as far back as 1296! Centuries later and Burntwood became a mining town. In recognition of this, a poignant monument of a miner with his pit pony can be found near the site of one of the former pits.
However, it's not just it's mining history that the town is known for! One interesting feature of Burntwood is that it has the smallest park in the UK – Princes Park. The town also hit the headlines when a local man using a metal detector discovered a hoard of Saxon treasure in a field in the area. It is the largest amount of Anglo-Saxon gold ever found!
These days, Burntwood is now a sought-after area for many wanting to move out of Birmingham for more green space. If you are a resident or business owner in Burntwood, employing a window cleaner to regularly visit your home or business premises is a great investment.
Aqua Bright Cleaning Ltd has many years of experience providing window cleaning in Burntwood. We use the pure waterfed pole system as it is one of the safest and most cost-effective cleaning methods, that also achieves great results. Using this system means we can easily clean windows at height and in hard-to-reach areas.
Aqua Bright Cleaning Ltd will visit your home or business premises and clean your windows either externally or internally or both if required. All our staff wear uniforms so are easily identifiable when they arrive at your home or place of work. They are also comprehensively trained and fully insured.
In addition to window cleaning in Burntwood, we provide a range of other helpful services including fascia board and soffit cleaning, gutter cleaning and pressure washing external walls and roofs. If you have a conservatory, we will clean the external and internal windows and the roof as well as everything that is part of the structure such as gutters and fascias.
So, if you want to make life a little less stressful and buy yourself a bit of extra time, why not employ a window cleaner. With the extra time you gain, you could walk round Princes Park or try and find yourself your own hoard of treasure!
Looking for a window cleaner?
For window cleaning in Burntwood ring Aqua-Bright Cleaning Ltd on 01543 529 941 or 07749 854 314. We are known for our reliability and professionalism, but don't just take our word for it, try us out!
Breathe new life into your building, with our domestic & commercial cleaning:
Internal and external window & frame cleaning
Solar panel cleaning to increase efficiency
Cleaning hard to reach windows such as above conservatories, velux windows, skylights or windows higher than the first floor
Conservatory windows, frames and roof cleaning
Fascia, soffit and cladding cleaning to enhance exterior look and prevent blockages
Gutter cleaning
Sign cleaning
Carport or veranda cleaning
Demonstrating our commitment to the highest quality service:
Membership of the Federation of Window Cleaners (FWC) and their associated quality standards
Uniformed operatives and sign written commercial vehicles
A range of payment methods, including invoice, electronic, cash or cheque
Notification of your next clean date by telephone, text or email
No out-of-hours money collection
Provision of full contact details to encourage feedback on our services
IOSH and NVQ Level 2 training





What Our Customers say about us
Choose a family run window cleaning company you can trust.
Dear David Jones, Enclosed cheque for £_ _ _ ... I am very pleased with the work undertaken today, with thanks.
Thank you Mr Jones. I appreciate your response and acceptance. I will transfer the XXX to your bank. Your service is very good, responsive and I will certainly use you again. Thank you.
Dear Dave, Thank you so much for sending Steve to us last Friday. As always he did a brilliant job - he is such a hard worker and a credit to your business. We now have the cleanest conservatory roofs AND greenhouse in Staffordshire!!!.......have a good summer, and we will be in touch again in late September/early October. With renewed thanks.