Window Cleaning in Tamworth References
"Hello Dave, Yes I am keeping well thank you for asking and everyone is always pleased with the window cleaning thank you…I hope you have a wonderful Christmas and let's hope we all have a healthy New Year. See you next year. Kind Regards"
"We've used Aqua-Bright Cleaning for the windows of our 3 storey listed building for some 4 years now, but needed even more specialist help after developing a leak during recent heavy winds and rain. Dave came out at very little notice to clear the worst of our gutters himself and arranged to come back to complete the job with a colleague. Great job, so friendly and even messaged to check how we'd got on with the more heavy rain recently (no more leaks)! Highly recommend."
"Many thanks for cleaning my windows. Sorry I was not at home when you came it is always nice to see you & any of the team. I hope this small note finds you all well and may you still be able to do the good job as it is always a pleasure to be satisfied with the work the team do. Best wishes to you all."
"Dear sirs. In connection with the service you provide in cleaning the windows of Wychwood House we thought a report on the routine we enjoy on your teams arrival and subsequent departure: 1 Team arrive. 2 Coffee made and served. 3 Biscuits served. 4 Cleaning gear assembled. 5 Wave to attractive girls (not true!) 6 Drink coffee. 7 Dunk biscuits. 8 Review football results. 9 Switch on water. 10 No water – tank empty. 11 Tip up lorry. 12 Water too low. 13 Connect to our water supply for top up. 14 Commence to clean. 15 Return cups. 16 Leave SAE for rapid payment. 17 Go deaf when discount mentioned. 18 Leave for home! However because we like your guys and the quality of the work they carry out we will continue to provide refreshments and – let it be said- we are pleased to do so!! Looking forward to their next call!"
"Aqua-Bright Cleaning Ltd. 'I had a dream the other  night, the meaning was so clear. Two figures sat upon my bed and both were far to near!' 'We've cleaned your windows they both called out, were Aqua-Bright's top team. And when we've finished cleaning up you can see where we have been!' ' Never mind the water that's running everywhere you can see, just lots of cake and biscuits, and two large cups of tea!'"
"Aqua-Bright Cleaning Ltd. "The night was dark & chilling with the wind so strong and raw, But two angels strod upon our step after knocking down our door. 'We need your help' one angel said 'Your windows are so clean' 'They shine and reflect the light. A joy just to be seen'. 'We use Aqua-Bright' we said ' they really are the best, no more window cleaning to be done, on this we do not jest!'. They always do a first class job, but one warning must be given. Ensure you provide lots of biscuits or you will never be forgiven!!'"
Searching for a Window Cleaner in Lichfield, Look no further than Aqua-Bright Cleaning Ltd!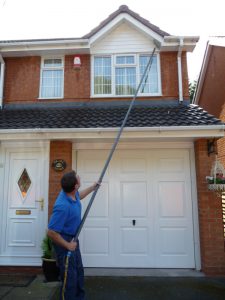 Get a Clear View Through the Glass with Window Cleaning in Tamworth!
You could be forgiven for thinking that London has always been the capital of England, however you would be wrong. In the 8th Century Tamworth was England's original capital. The mighty Offa King of Mercia and All England even had a palace built here.
Fast forward to the 21st Century and Tamworth is not just noteworthy for its Castle and Moat House but also the fact that it has more snow than any other part of the UK all year round! That's because of the snowdome that has a real snow slope! This is now one of Tamworth's main attractions.
If you are a business owner or home owner in or around Tamworth, have you thought about hiring a window cleaner in Tamworth? You might think you could do it yourself, however, consider some of the advantages of having someone else to do it for you. For example, cleaning your windows thoroughly is not as easy as you might think as often dirt and streaks can be left behind. There's also the danger of scratching the glass. Paint, stains, and animal waste are all stubborn materials that can be difficult to remove if you don't have the right technique. A professional window cleaner in Tamworth has all the essential tools such as water fed poles and non-invasive cleaners to ensure a proper job is done. They will also use the right technique to remove stubborn marks. That's where Aqua-Bright Cleaning Ltd can help.
Aqua-Bright Cleaning Ltd have established an outstanding reputation for professionalism and reliability, providing commercial and domestic window cleaning in Tamworth. With many years of experience, we know how to tackle stubborn marks on your windows as well as how to reach difficult to access windows safely and effectively. We are also able to adapt our skills, using different approaches to clean different types of windows.
If you are a business owner or home owner and are thinking of hiring a window cleaner in Tamworth, Aqua-Bright Cleaning Ltd can help ensure your windows are kept clean both inside and out. So, instead of spending time doing DIY window cleaning in Tamworth, you can be at the snowdome on the ski slope!
As part of our professional service, you can expect all our staff to wear uniforms and our vans to have signage on them, so you can identify us as soon as we arrive at your door.
Aqua-Bright Cleaning Ltd also provide a range of other services in addition to window cleaning in Tamworth, for example we can clean the exterior of your house or business premises including clearing gutters, cleaning fascia boards and soffits as well as cleaning external building facades such as render. We can tailor our exterior cleaning services to suit your needs, whether that's cleaning the gutters or pressure washing the walls or removing moss from the roof.
Need a Window Cleaner in Tamworth?
Give Aqua-Bright Cleaning Ltd a call on 01543 529 941 or alternatively 07749 854 314. We look forward to hearing from you. We are happy to provide you with a free quote.
Breathe new life into your building, with our domestic & commercial cleaning:
Internal and external window & frame cleaning
Solar panel cleaning to increase efficiency
Cleaning hard to reach windows such as above conservatories, velux windows, skylights or windows higher than the first floor
Conservatory windows, frames and roof cleaning
Fascia, soffit and cladding cleaning to enhance exterior look and prevent blockages
Gutter cleaning
Sign cleaning
Carport or veranda cleaning
Demonstrating our commitment to the highest quality service:
Membership of the Federation of Window Cleaners (FWC) and their associated quality standards
Uniformed operatives and sign written commercial vehicles
A range of payment methods, including invoice, electronic, cash or cheque
Notification of your next clean date by telephone, text or email
No out-of-hours money collection
Provision of full contact details to encourage feedback on our services
IOSH and NVQ Level 2 training





What Our Customers say about us
Choose a family run window cleaning company you can trust.
Dear David Jones, Enclosed cheque for £_ _ _ ... I am very pleased with the work undertaken today, with thanks.
Thank you Mr Jones. I appreciate your response and acceptance. I will transfer the XXX to your bank. Your service is very good, responsive and I will certainly use you again. Thank you.
Dear Dave, Thank you so much for sending Steve to us last Friday. As always he did a brilliant job - he is such a hard worker and a credit to your business. We now have the cleanest conservatory roofs AND greenhouse in Staffordshire!!!.......have a good summer, and we will be in touch again in late September/early October. With renewed thanks.